Germany Eyeo CEO Till Faida announced on Monday that the downloads of AdBlock Plus approach near 1 billion times. So far, this software has been installed on 100 million active devices.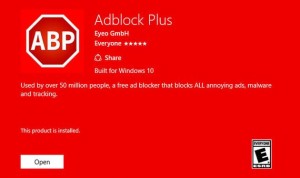 The development of ad-blocking software forces the medium and publishers seek new channel to make profit. AdBlock Plus is the leader in the ad-blocking field.
Eyeo revealed the downloads of AdBlock Plus were 500 million times earlier this year. Its active users were 50 million. Judged by this figure, the ad-blocking business received rapidly increase. Faida claimed the downloads of iOS apps and Android apps added up to 10 million times.
He stated at Drisrupt NY 2016 that there were some mistakes existed in the advertising industry. Eyeo helps the advertising industry to reset its environment and offer better experience regarding the advertising issues for users.
He explained many of users do not hate ads actually. However, they hate the intrusive ads which bother their surfing.
Therefore, the company launched the Acceptable Ads project to avoid the interference of irritated ads and select some well-performed ads for users. The project targeted the large-scale enterprises and offered them 10 million times of displaying their ads.
Eyeo charged those enterprises subscription for AdBlock Plus service. The amount depended on 30% of their traditional advertising revenue that obtained via white list per month.
Faida did not reveal the revenue that AdBlock Plus brought. He suggested that among American top 100 websites, there were 40 of them displaying the page of Acceptable Ads.