Amazon works hard to deliver goods to the consumers quicker all the time. Now it is making the delivery easier to order everyday essentials by launching its press-to-buy Dash buttons in the US.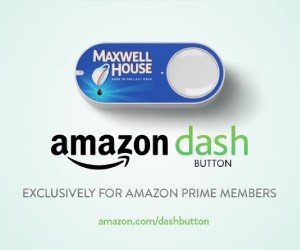 The Dash buttons connect to WiFi and stick to any surface with an adhesive that allowing consumers to make install re-orders with a single press. Then the items will be delivered to them.
The items available for the Dash buttons app vary from Huggies to Gillette blades and replacement Tassimo coffee T-Discs. It also offers daily necessaries such as toilet paper and washing powder.
This solution is made to extend the Amazon's previous shopping list scanner device Dash. With this press-to-buy Dash buttons, the consumers can overlook the items they chose or add some more items to a shopping list.
After four trail of Amazon first announced Dash, the press-to-buy Dash buttons has been launched and available all US Prime members to shop.
This new device is not available in the UK store yet. There is no official announcement to indicate when Amazon brings this device to Europe countries. It is pretty sure that the Amazon could apply this device in more places in the near future.