Wall Street Journal claimed that Apple Watch 2 emphasizes on sport and fitness functions. It may affect the sales of wearable fitness devices on the market.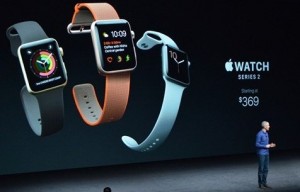 When Apple Watch was initially released two years ago, Tim Cook introduced its functions included email, calendar, weather broadcast and telephone dialing. Cook also mentioned its fitness function for Apple Watch then.
When Apple Watch 2 was debuted last week, its featured functions focus on sport and fitness. COO Jeff Williams stated:"We assume Apple Watch is the ultimate device of healthy life."
Apple redesigned the new generation of Apple Watch and named it as Apple Watch Series 2. Its water-proof function and stand 50 meters beneath water which owes to the water-proof feature of customized speaker system. Apple addressed the cooperation with Nike and released a sport-theme customized Apple Watch Nike+. It is set with GPS which allows this device track the data of hiking, running and cycling.
Apple sold 12 million Apple Watches since its release. However, Apple Watch did not make a hit as iPhone. It sold 1 billion iPhones in past 9 years. Forrester J.P. Gownder pointed that:" Apple Watch has no core function yet, while it develops into a nice sport and fitness device."
Brad Erickson claimed that Apple Watch Series 2 will may affect the sales of other wearable fitness devices, including Garmin and Fitbit.
Garmin spokesman said:" Apple Watch will bring more consumers for our wearable fitness devices. It is thrilled that Apple released the similar smart watch. It is a sign that wearable fitness device has been authorized."
While Fitbit spokesman indicated that there will be enough room for fitness devices growth based on the past records.