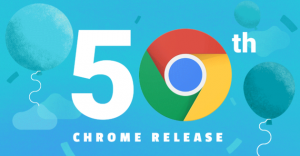 Google announced on April 21 that its mobile Chrome browser has got over 1 billion monthly active users. In other words, Android Chrome and iOS Chrome attracted another 200 million users within 5 months. It made great performance to a mobile app which was released under 4 years.
This record suprised Google as well. Google has just released Chrome 50 this week though it had not released mobile Chrome 50 yet. To figure out the reason, Google just released the Android and iOS apps in June, 2012. However, all of the platforms can share this feature.
The mobile Android users must be more than mobile iOS users though Google refused to reveal the exact users of Android and iOS devices.
To congratulate the release of Chrome 50, Google revealed an information graph, including the following details:
1. 771 billioin web pages being loaded each month.
2. 500 billion letters being typed by users each month with the help       of search autocomplete feature.
3. 2 million GB data being loaded by users contributes to Chrome           data compression technique
4. 3.6 web pages being automatically translated each month.
5. 9.1 billion times of forms and passwords being automatically filled          each month.
6. Protect users being attracted by malicious pages for 145 million          times each month.
7. Google granted security study community $2.5 million to improve      Chrome's safety.
Google revealed that its Chrome users reached 1 billion at I/O conference in May, 2015. It is obviously that it obtained more users by now.