Tim Cook was interviewed by Vikram Chandra of NDTV concerning sales decline of iPhone. Vikram Chandra asked Tim Cook whether it is worth having a iPhone with higher price in other countries out of US. Apple only charges about $ 600 for a new iPhone in US.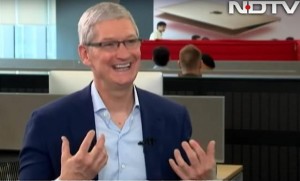 According to its last quarter earnings report, the sales volume of iPhone declined by 16%. In the meantime, Android smartphone rival users share in all iPhone markets. The experts predicted that iPhone sales volume in 2016 will decline continually.
Concerning the question that Vikram Chandra made, Cook admitted that it is over charged in Indian market. He claimed that the firm will consider decreasing the price of iPhone in the future. He said:" I am aware of the higher price of iPhone. We are adjusting our policy now. We believe that the price of iPhone will be set at an affordable price in the near future." Cook implied that high selling price of iPhone will lead to fewer sales performance in this January.
Even though iPhone is sold at about $600 in United States. There are different prices for iPhone in oversea due to the fuctuations of exchange rate and localized tax system. For example, iPhone is sold at $931 in Brazil, $784 in India, $671 in UK.
iPhone is much expensive in comparison with Android smartphones that with similar functions. According to the data that made by Deutsche Bank, the price for iPhone in US this year is about $ 600, while sold at $931 in Brazil. It is 1.56 time of the native price. It sells iPhone at $865 in Indenosia which is 1.45 time of American price.
In the meantime, the selling prices in Italy, Danmark, Finland, Belgium, Netherlands, Germany, France and Australia are all over $700. Speaking of the selling price in China, it sells about $ 693 this year.
Cook claimed the customs and local tax system make difficulties for decreasing the price of iPhone. It faces challenge and pressure to make profit in Indian market.