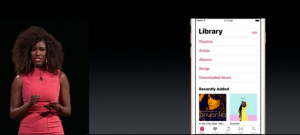 Apple introduced the updated Apple Music at WWDC 2016 as reported. Its main interface becomes more simplifier and features meet the need. The classifications, font of options have been adjusted. It refreshes the users.
Apple senior vice manager Eddy Cue announced at WWDC that Apple Music's subscribers have reached 15 million since its release. It became the fastest-growing streaming music service. Then its sales supervisor Bozoma Saint John introduced the newest Apple Music features.
Once users run the App, they will find out the difference on the main interface. Its major menu has been adjusted to "Library", "For You"' "Browse", "Radio" and "Search." It deleted the previous section of "New", and added "Search" feature to be one of its major features.
When users visit its home page, they will find "Library" replaced " For You." The reason why Apple adjusted these elements is that many listeners are get used to listen music through their "Library". Therefore, Apple adjusted " Library" to its home page.
Apple set five sub-menu options for "Library" for listeners to manage it easily. The sub options are "Playlist", "Artist", "Album", "Songs", and "Download Music." The latter is the new feature added where classifies digital songs were bought by listeners.
It updated with a Lyrics feature as well. Listeners could listen and sing when they are working. However, Siant John did not reveal more details concerning its compatible languages.
Even though Apple adjusted its home page, "For You" is still an important element on Apple Music. Its sub options are "Discovery Mix"," Recently Played", "Daily curated playlist", and "Connect."
Maybe the updated Apple Music is far from perfect, it still won likes as it adjusted the features based on the marketing feedback. It will be debut in this autumn, along with iOS 10. It is compatible for Apple iPhones, Apple TV, Mac, PC and Android devices.