Will Google call users from iOS and Android platforms together? It works as it released Duo by which a one-to-one video call app. It is said that Google released Duo at 2016 Google I/O conference in May. It is now available for users.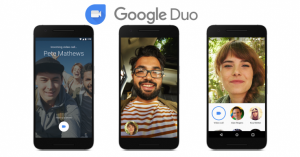 Duo supports 78 languages. It is obviously that Duo is considered as a competitor of FaceTime. iOS users can make video call to their friends who use Android system with Duo.
It is a pity that Google Duo is unable to create group voice call, make video processing and text chat.
Nick Fox, vice president of Google Consumer Communication product management department, claimed they focused on simplicity, speed & stability and humanity factor for Duo.
Users can access Duo without Google accounts. The app will show users their current calls or telephone contact list on the bottom of main interface. It sets a shortcut key of accessing contact list. It will enter the full screen mode as long as the video call is made. If your friend fail to answer your calling, he will receive a notification of missed call.
The most innovative feature of Duo is considered as Knock-Knock. It sounds like knocks when you stop by a friend's. Users can receive the scenes before their friends answer the video call.
It is weird that Duo can not connect with other Google messaging apps or website. It can possibly be forgotten by users shortly.
Google has Duo, Allo, Google Chat, Android SMS, Spaces, RCS and Hangouts. It previously announced to end Hangouts soon. Its communication business still requires more focuses.