Amazon released its first voice assistant Echo in November, 2014, with fantastic means to display music, turn on lights and adjust temperatures. By this June, Amazon had sold 3 million Echo devices. It sold about one million Echo during summer vacation in 2015. Echo received 4.5 rating score in Amazon website.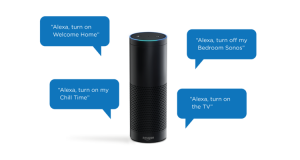 Echo is supported by Alexa which was launched by Amazon independently. As the core part of Amazon product in voice recgnition field, Alexa is available to all developers though their applications made threats to Echo.
Besides Alexa, Apple also launched its own voice assistant Siri. Recently, Google debuted Google Assistant. While Microsoft has Cortana to compete some share in recent years. Until now, only Amazon opens its API to developers and enjoys a great popularity for all kinds of app creation.
Alexa has been applied to Uber for taxi reservation. Users can also apply Alexa to order pizza on Domino platform.
Amazon obtained over 10,000 developers since it open Alexa. David Limp, senior vice president of Amazon hardware department, claimed Alexa would be connected to more home appliances regardless of their manufacturers.
"Our long-term goal is to operate Alexa as the Central Computer of Star Trek Beyond does," said Limp. It must be wonderful to control everything by voice as it does in the movie.
Amazon faced much pressure from Apple and Google since the failure of Fire Phone in smartphone market. Now, they can popularize their own voice assistants on Google and Apple smartphones. In other worlds, the failure of Fire Phone led to the success of Alexa as Amazon could focus on the development of voice recognition system.